In today's update, you'll learn about several trauma care programs being implemented at our flagship orphanage in Bolivia. The programs focus on restoring the children we serve—from a points reward system to play therapy and celebrating birthdays—to equipping the older children with specific Youth Development and GPS Life Journey programs. Orphanages around the world can implement these programs as they are or customizing them for their specific needs.
The three successful trauma care programs we are highlighting below provide learning opportunities that help the children we serve begin to transform into strengthened and empowered children.
Celebrating The Wins
Points Reward focuses on positive reinforcement and the celebration of small victories and was officially launched in June as part of HOHI's trauma care training program. It offers the children tangible experiences through earning points that turn into play money rewards that can be used to purchase prizes.
For example, instead of punishing a child who struggles with completing homework assignments the focus is shifted to rewarding him / her for the 3 out of 5 assignments that they did complete. This boosts their self-confidence with a small victory. It also motivates them to work towards earning more points by finishing all assignments.
All their hard work is reaffirmed with the excitement of touching and counting their cash rewards, the physical experience of seeing the prize options and finally choosing a reward. And, they learn that they have the option of saving their cash for bigger prizes next time. Once they start to trust that their efforts bring reward they start to understand the value of working towards longer term goals.
Points Reward is more effective than any lecture on the long-term benefits of hard work and discipline!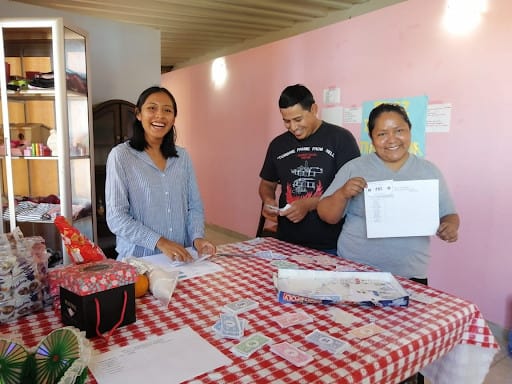 From left to right: Lili (social worker's assistant), Jose (psychologist), Nelly (social worker) prepare for a rewards celebration.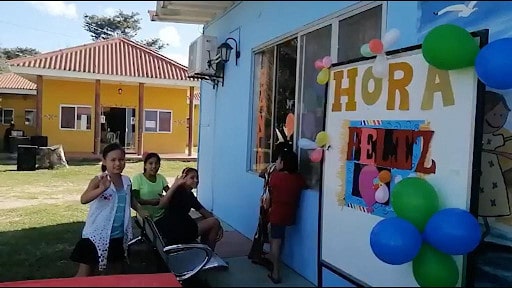 From Left to Right: Ruth Sol, Kimberly and Rosa on the bench celebrate a special "happy hour" – exchanging their earned play money for prizes!
Learning through play is Trauma Care
Play is therapy! And children love to play! It's the best way for them to learn, discover, grow and develop.
Fly It
The idea of creating a make-shift kite with a piece of string and a plastic bag on a windy afternoon was spontaneous. Little do these children know that they experimenting with aerodynamics.
Dodge It
Just another game of dodge ball? Absolutely not. These children are developing both interpersonal skills and physical coordination.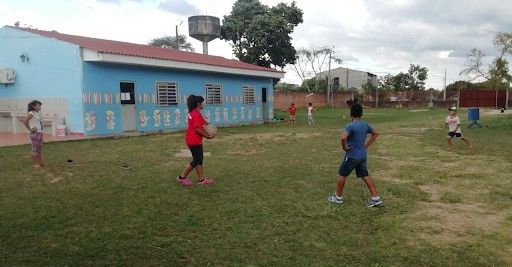 From left to right: Melany, Vanessa, Christiano and Oscar.
Build It
These boys apply strategy, engineering and spatial awareness as they build.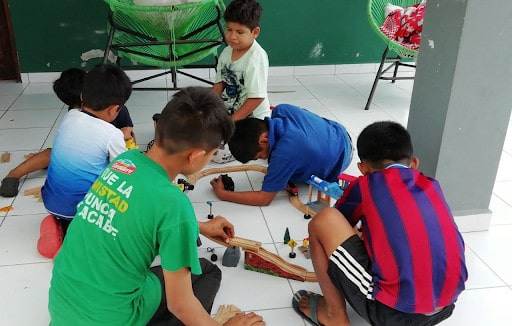 Follow Us On Instagram
Birthday Celebrations
Helping children restore identity is another important aspect of what we do at Haven of Hope. Monthly birthday celebrations are a way to affirm identity and worth. When a child reaches a milestone birthday like the coming-of-age at 15 or adulthood at 18, the celebration is great!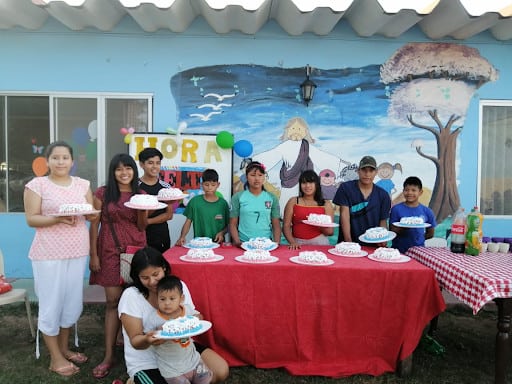 Cakes are a special treat reserved for birthdays and weddings.
Back, left to right. Sarai (director's daughter), Carlota, Sebastian (cook's son), Duniar, Reinilda, Angela, Ruddy, Christian. Front Fernanda with her nephew, Benjamin.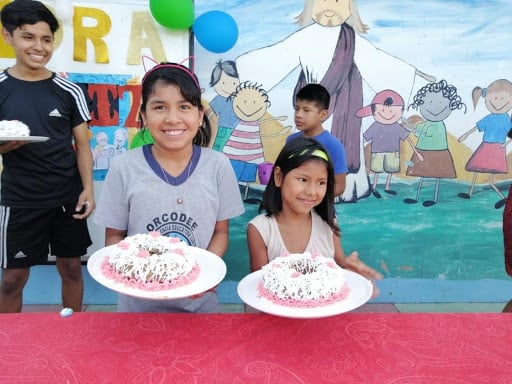 Each person who celebrated a birthday receives a cake to share with his or her group. Left to right: Daniela and Erika.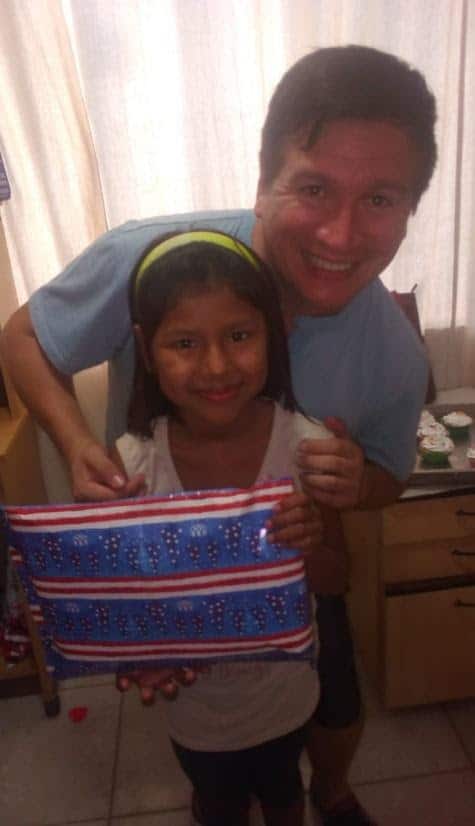 If your birthday is this month, consider starting a birthday fundraiser on Facebook! Thank you for helping us create an environment for these children to thrive.
Need help setting up your fundraiser? Read this short post for help.
Like Us On Facebook
We Equip Our Children with Skills for Life
Yoselina has been at Haven of Hope since she was 12 years old.
On reaching 18 years of age, she becomes in legal terms an adult. The government's social services release her once she graduates at the end of high school. At that time, she would be required to earn her own living. Haven of Hope's transition program for young women like Yoselina allows them to continue to receive the support they desperately need for this determining phase of their lives.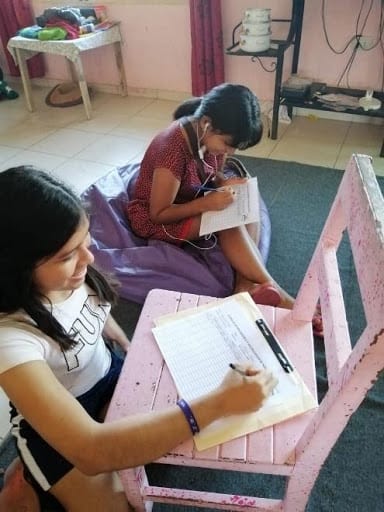 They learn to re-adjust their behaviors to meet objectives. From left to right: Martha and Carlota.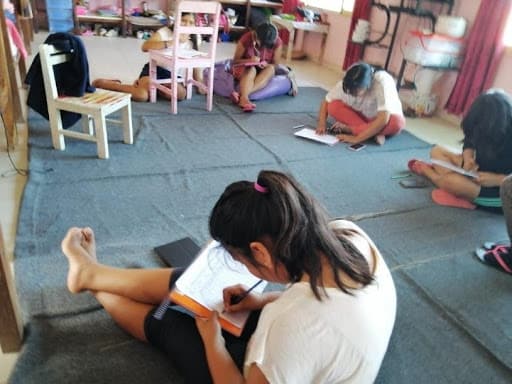 Self evaluations help our young people reflect on their dreams. We prepare and equip our kids long before the age of 18 so they are ready for the transition to independent living. Our Youth Development Programs help guide our youth towards fulfilling their dreams.
We Equip Our Children To Make Wise Decisions
This month our three university students started an international course, GPS Life Journey. It is led by Emily Miller as a volunteer for GPS, a new member of Haven of Hope International helping with communications. With the assistance of a long-time sponsor of Haven of Hope, Beth Webley. This is an 8 week course, via Zoom, helps these students explore their unique, God-given traits and gifts, and create a road map for their life mission. They will be better equipped to make wise choices for both their present commitments and future dreams.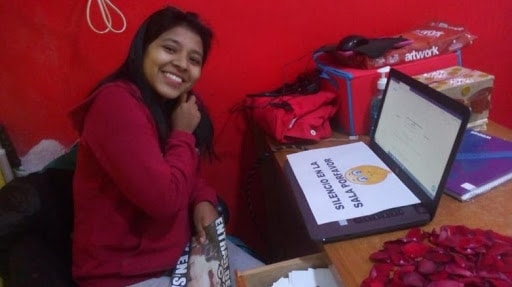 Our university students:
Luz Marina (left) and Fernanda (right) receive supplies for the kitchenette in the transition dorm room.
Carlota (center) prepares for her online university classes.
We highly value the support and prayers of our sponsors who help us rescue, love, restore and equip the children we serve! Thank you and may God bless your kindness and generosity!
Follow Us On Twitter
Our role remains – to be a voice for the voiceless.
Will you help us and share this report with others.

If you someone has forwarded this blog to you and you would like to receive updates on this effort, please click 'subscribe' to sign up.
Read our latest blog posts