Watu Wa Maana Childrens Centre, Ruiru, Kenya (43 Children)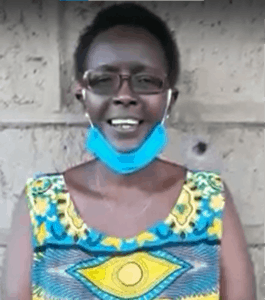 Meet Director Wanjiru Waira Kamau
In 2002, Director Wanjiru was called to minister to the street children of Ruiru. Starting with bible studies, sharing the gospel with the street children, she soon realized they also needed a home and founded the Center. With 18 children in two small rooms in a location owed by her parents, Watu came to be.
For the past 18 years, Director Wanjiru has put her BA in Psychology to good use every day. Her goal is to rehabilitate and reintegrate these children, helping them to find God's purpose in their lives and fulfill it. Wanjiru ensures they study hard and get a solid education. She also reaches out to these children's families, sharing the love of Christ.
"Watu wa maana," Swahili meaning "very important people" is the overarching theme by which this residential children's home operates. It is located in Ruiru, an industrial town approximately 20 miles northwest of Nairobi. Along with support from Haven of Hope International, Help the Least of These provides financial support to help with every day and special needs.
The majority of the children at the home have lost a parent (or both parents) ending up on the streets or under the care of abusive and neglectful family members. Along with the 43 children residing at the home, there are also 20+ Watu children in secondary schools, living with responsible relatives or good Samaritans in the community.
The Center staff includes a Manager/Social worker, a Chaplain/Administrator, a House mother and security guard. Each member has professional certificates in their area of expertise. In addition, local university students also volunteer time with the children.
Education for Watu children is of the highest importance. During 2020, Haven of Hope was able to a provide critical technology package so their children could attend primary or secondary school online during the pandemic--laptops, wide angle webcams, projectors, cables, screens and internet connection. Being technology enabled allows not only education instruction, but also trauma-care training and tele-medicine resources now available to the orphanage.
Sustainability-minded, Watu raises chickens for food and to sell eggs to the community. In 2017, Watu installed shipping containers on the property and have been renting the space to merchants, providing Watu income to help pay education costs.
The Center provides these children shelter and safety, food, clothing, counseling, schooling and a Christian foundation. Believing the best place for a child is in the family, when the child is well rehabilitated, and a healthy family relationship is established, the child is reintegrated into the family with continued Watu support to the child, especially in education.
With your monthly support, HOHI can provide education materials and trauma care training, help with medical costs, and funding for vocational training, giving skills to many young adults who do not qualify to go to university and other diploma colleges.
About the Republic of Kenya
Kenya is in East Africa on the Indian Ocean coast and bordered by Ethiopia, Somalia, South Sudan, Tanzania and Uganda. Nairobi is its largest city and its capital. The city of Ruiru, near Nairobi, is an industrial town and the 6th largest urban center in Kenya. Swahili and English are official languages in Kenya along with numerous indigenous languages.
Kenya's geographic landscape encompasses savannahs, lake lands, valleys, mountain highlands and lots of wildlife. From Nairobi safaris visit the Maasai Mara Reserve, known for its annual wildebeest migrations, and Amboseli National Park, offering views of Tanzania's Mt. Kilimanjaro.
With a population just under 54 million, approximately 3.6 million are orphaned or vulnerable children under the age of 18—47% are orphaned as a result of HIV/AIDS, 15% are double orphans (lost both parents) and 85% are single orphans. 700 children are orphaned every day and 1/3 of these are orphaned due to HIV / AIDS.
Kenya ranks as the eighth poorest country in the world – and the sixth poorest in Africa. Over 25% of the population live on less than $1 per day and 12-15% of households in Kenya are headed by an orphan sibling. In some regions, over 25% of orphans are acutely malnourished in spite of the fact that Kenyan's economy is largely driven by agriculture.
As a Kenyan orphan or vulnerable child, challenges are many—physical abuse, defilement, sexual exploitation, child labor, early marriages—all are traumatized. Their future is unpredictable—no or limited access to proper health care, education, shelter and nutrition—and often disinherited by their next of kin.
OUR photos ABOUT WATU WA MAANA
OUR BLOGS ABOUT WATU WA MAANA