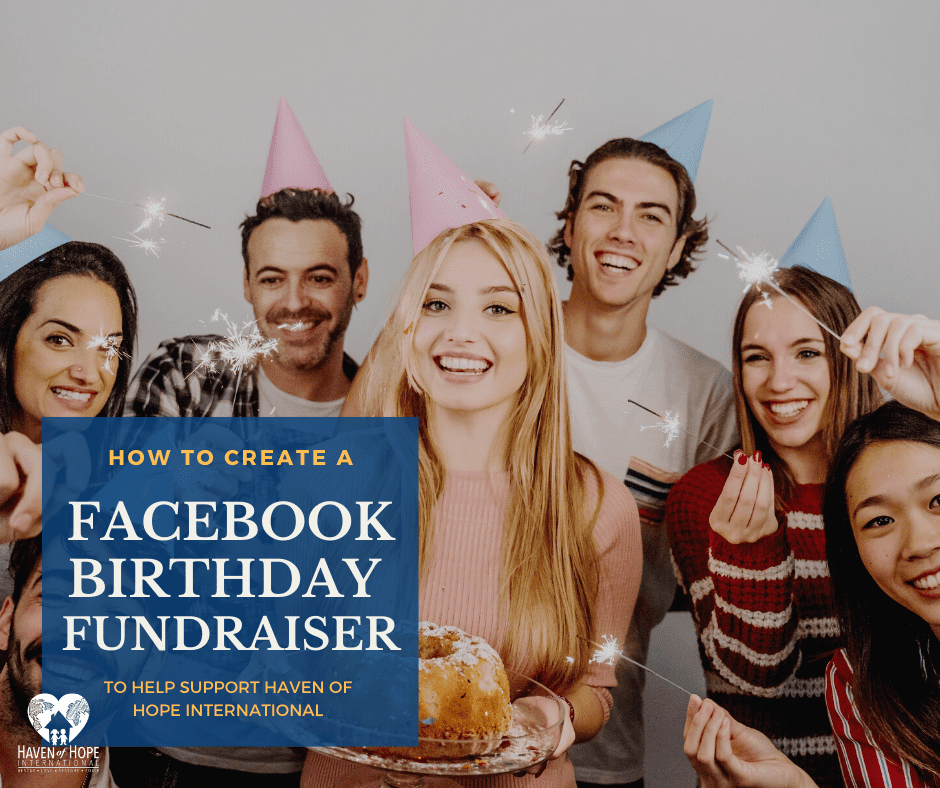 WE ALL KNOW THE ORPHAN CRISIS CAN BE OVERWHELMING, BUT WE TRULY BELIEVE THAT EVERY SINGLE PERSON WITH A DESIRE TO MAKE A DIFFERENCE IS ABLE TO!
We wanted to thank you for being willing to support Haven of Hope and the mission to rescue, love, restore, and equip orphans around the world.
People have asked us how to create a Facebook Birthday Fundraiser so we're including SIX EASY STEPS to help set it up. Keep in mind you can also create a fundraiser that will benefit Haven of Hope on any occasion.
1) Go to your Facebook account or create a new one!
2) Go to your 'home' page, and look on the left side column. You should see the 'fundraiser' option under "Explore" at the bottom. Click on "Fundraiser" and Facebook will walk you through it.
3) Scroll down and click on "Select Nonprofit" Type in "Haven of Hope International"
4) Set your fundraising goal and time-frame. We've seen many successful fundraisers at $200 or even $500 or more! Set something that you feel good about and see where it goes!
5) Invite people on your friends' list and engage with them! This is key. Invite, invite, invite! Share often on your timeline: remember that not everyone will see something when you post just once. While some people may be hesitant to invite people on their friends list, remember you're giving them an opportunity to participate in something large and global. No problem if they are unable or unwilling to participate at this time – you've at least extended an invitation.
6) Thank people as they donate and watch numbers go up! Seriously, these people are donating to Haven of Hope because of YOU – because they love you, they appreciate you.