A lot can happen in 45 days!
And it did at the John E. Halgrim Orphanage in Kenya.
Alice Skaff, HOHI founder, first met JEHO directors Miriam and Peter in 2018, stopping by to visit the orphanage home on her way to climb Mt. Kilimanjaro and raise money for HOHI. Since that time, HOHI has helped to provide JEHO food for the children, Social Worker support and a technology package so that the children could access online classes during the Covid-19 shutdown in Kenya and soon, a Christmas dinner celebration and toy for each child.
Many of the children at JEHO are found discarded and abandoned on the street or come from government agencies or hospitals. The home is located in the inner-city with a bustling environment and the children's playground is on the top of the building. Most of the areas in the home are in need of major rebuilding or refurbishment—beginning at the front door. In just 45 days, Phase 1 repairs were made to the terrazzo roof, building grills and bed, tiling, plumbing, drainage repair and some electrical work. New water tanks were brought in along with fire extinguishers and first aid equipment. And a new coat of paint was added to the newly repaired areas.
Before the JEHO Renovations Photos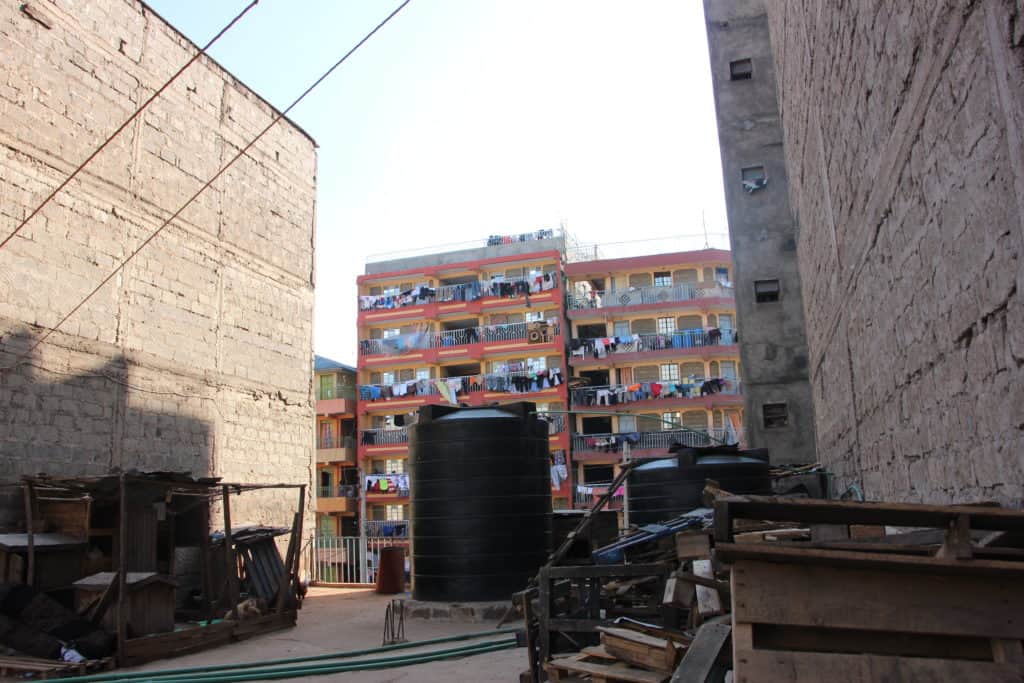 After the JEHO Renovations Completed Phase 1 Photos
JEHO Renovation Phase 2
There is a Phase 2 renovation plan slated for 2021. Once funding is available, renovations will get underway. The total cost of Phase 2 is estimated at $15,000, among the work to be done:
Kitchen and pantry storage structure on the rooftop: $2,000
New stove: $2,000
Electrical install in upper kitchen & dining hall: $500
Plumbing upper kitchen: $350
The current kitchen, with a firewood stove, is a safety and health hazard. It is not well ventilated and is next to the main exit and staircase that leads to the sleeping quarters. Should a fire accident occur, it would be difficult to salvage much but also might be life threatening to the children.
Plans call for moving the kitchen to the roof top where it will be well ventilated and where the smoke and the carbon emissions will be away from the children. A pantry will be built next to the kitchen, moving it from its current location in the sleeping quarters area.
A new dining hall will be built near the kitchen area. It will serve as a multi-purpose hall that can also be used by the children to do indoor games and other home related activities.
Dining hall on the rooftop: $2,800
Restoration of floors inside home: $2,500
Kitchen (lower) & repairs to turn into store: $1,200
Installation of shower heads – installation and wiring: $1,500
Water filtration System: $900
Be a Legacy of Hope:
Covid-19 has impacted our fundraising. Not only are donations down, but our Annual Celebration Dinner, where we gather as an awesome group of HOHI supporters and enjoy fellowship, learn of the major impacts HOHI has made and raise money, has been cancelled this year.
As such, we have pivoted to smaller, socially responsible Legacy of Hope Dinners. Consider hosting an HOHI fundraising dinner for 8-10 friends. Alice is available to speak at any fundraising event you create! Contact us and we can help you pull together your dinner. Click here.
Our role remains – setting a new standard in orphan care.
Subscribe to our newsletter to see the Christmas celebrations.
Read Our Latest Blogs