This beautiful story about Emma Bullock was shared with us by her mother, Sherry Bullock.  Emma will be honored with the building of an internship center at Haven of Hope Bolivia.  The center will be named Emma's Echo.
I don't think I can write about Emma's experience in Bolivia without backing up to the few weeks before she left for Bolivia, and then moving forward to how mission trips like Bolivia ultimately framed her. It would be easiest to say that she was simply a great kid who loved Jesus and people, went to Bolivia, served with joy, was transformed…and then leave it at that. Nice and tidy and easy to fit onto one page. And whereas all of that is true, I don't think it does justice to her, the beautiful kids in Bolivia, or her God. Most of us are a little bit messier than that. And so was Emma.
In truth, Emma was struggling a bit, as we all do, in the weeks leading up to her mission trip to Bolivia. It was July of 2019 and she had just graduated from high school and was looking forward to her freshman year of college. But with the excitement of something new came the dread of all the negative what-ifs, all the feelings of inadequacy, and all the self-doubt. Just a few weeks before she left, she wrote in her journal: "I compare myself to other girls and wonder how I could ever measure up…" 
The next few entries take us up to the week before Bolivia where she writes that she is learning that "the comparison trap tricks us into thinking that God's blessings are in limited supply." She was working through the truth that her worth rested solely in her "connection with Jesus Christ." She ends the entry with the desire that God would send someone to encourage her, but then quickly shifts to say that if He chose not to send someone who would be an encouragement for her, that He would make her the encouragement for others.
And that is exactly where Emma always excelled. I was once told that great mathematicians make lousy math teachers, because in order to be a good math teacher you have to struggle–to some extent, anyway–with math. You can't guide others through something that has always been easy for you. Otherwise you don't know the steps to solve it. Because Emma struggled with "the comparison trap," she was great at being a friend to others. She knew the steps to reach people. It was pretty simple, really. But many of us miss it. She saw people. She noticed them. And then she went to them. Nobody was too shy or too quiet or or too insignificant for her to reach out to. I know it's because she saw herself in them and she cared enough to be an encouragement.
On days one and two of her Bolivia trip, her journal is pretty quiet. She was once again wondering what her role was. She didn't feel like she was making an impact. And she was frustrated. By day three, she asks God to open her heart and eyes to "any child or person on this trip who needs to know/experience your love" so that "others can feel loved through me." God showed up. At the end of that day she writes four times as much as the first two days combined. God gave her an opportunity to connect with some girls while cleaning a room, of all things. They cleaned and they sang and despite the language barrier, they developed the beginning of a friendship. "I took a chance and followed what I knew the Lord was calling me to do, and because of that I was able to sit comfortably with girls I hadn't known just an hour earlier and I was able to sing with them about the beauty of our God. Meeting people and getting to know people's hearts might not be as hard as I thought….I just have to say yes. Say yes to being uncomfortable and say yes to the beauty, all of it." 
Her old formula worked again: see people and go to them. Just talk to them. Say yes to being uncomfortable. Say yes to the beauty. Just say yes. Easy–especially if you know what it's like when others say no.
She goes on to write names of some of the girls–girls she had just met–and beside each name is a dash followed by adjectives–things like "quiet," "joyful," "steadfast," "funny," "brave," "curious," and "important." Descriptors that only someone who struggled with being seen and valued would see in others after just three days and despite a steep language barrier. But that was Emma. 
I wish I could say that the next year and a half of her journal entries were profoundly different–that she never again struggled with feeling like she was "meant to be a follower" or that she didn't "measure up." The truth is, they aren't. She continued to struggle with feeling worthy and valued and with being "good enough." She continued to feel as if she might never be as pretty or smart or talented as others. But what she learned in Bolivia, and what God continued to teach her up until the night before she left us to be with Him, was that He accepted her. Better yet, she was learning that no amount of self-doubt or shame or sadness or insecurity could cause God to look the other way. As she continued to pursue Him, He pursued her even more. She couldn't outrun or outreach or out-doubt God. He was the ultimate encourager and she knew He would never tire of teaching her.
I wonder how many of the orphans in Bolivia–and all over the world–feel the same as Emma did? I think we are all a lot more similar than we are different. Thankfully, Jesus is the same for everyone. Emma knew when she went to Bolivia that it wasn't about her. It was never about her. It was always about Him. It was the work He would do through her and it was the work He would do through the girls as they cleaned their dorm together and sang songs in both Spanish and English. He worked through her and He worked through them and everyone benefitted.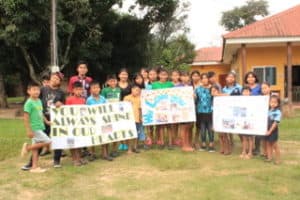 The night before Emma died in February of 2021, she wrote her last journal entry: "God saved me once when I was fully separated from Him, and He saves me each day still from the trap of sin. My salvation is the most beautiful gift of grace in my life and it is wrong for me to question it because of my own shortcomings. He said, 'It is finished.' I feel that I am incapable of being loved by God but I forget that He is perfect in love. I am not big enough to mess that up and no amount of sin and mistakes can take that away. And wow, how much would my life change if I lived in that blessing?…I am fully loved and fully known…There is purpose in the pruning."
That is Emma's story. Emma's story is God's story, because she belonged to Him. Fully loved and fully known. If she were here I think she would say she never attained whatever it is that makes us feel accomplished in terms of human satisfaction. But thankfully she spent plenty of moments pursuing a different kind of fulfillment. There was purpose in the pruning.
Although she took on some leadership roles after her experience in Bolivia, I don't think she would have called herself a "leader" either. And that is something that she desperately wanted to be. But what she didn't know is that God was preparing her to lead beyond her time on earth. She can still lead. She can still inspire. She can still nudge. Nothing would have made her happier here than if she knew she was somehow instrumental in leading others to Christ and His work. What would she ask of us? Nothing more than what God asks of us and what He asked of her: love God and love others, but also accept the love that He gives to us. 
See the unseen. Help the ones who are struggling. Be a friend to those who feel left behind. Clean the orphanage dorms. Sing. Go. Trust. Love.
Give. 
Say yes.
–Sherry Bullock, Emma's mom