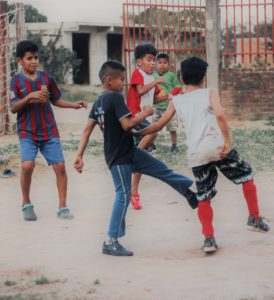 PHOTO: Some of the boys having fun
Our dream to bring more boys to Refugio de Esperanza, our flagship orphanage in Santa Cruz Bolivia, is beginning to come true!  We have made great headway these past few months in our planning with the city government, completing the retrofitting of the plumbing on the property and lining up a local overseer for when the construction of the dorm actually begins.  We expect that will take place during the early part of 2019.
The boy's dorm will provide separate living quarters for our teenage boys and enable them to continue to stay at the orphanage with their siblings, as they grow older.  Plans call for a dormitory to house up to 32 boys and two staff members.  The dorm will also include a common area for devotions, studying, vocational training and other activities. The estimated cost to build the dormitory is $100,000 and, to date, our fundraising activities have brought us close to our goal.
[button link="https://havenofhopeintl.org/donate-now/" newwindow="yes"] DONATE[/button]