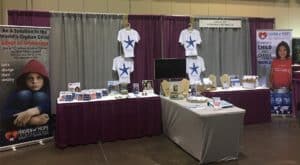 PHOTO: HOHI Display at General Assembly
Powerful and Profound…these words best describe Haven of Hope's week at General Assembly, July 30-August 3, 2018. Haven of Hope representatives to the annual Church of God Council Assembly were Founder Alice Skaff, Onsite Director of Youth Development Cathy Trentini and HOHI's Sustainability Program creator Judy Cutler-Teeven.
Over 65 new Family of Hope relationships were launched during the GA. Our goal is to turn them into powerful partnerships that will make a profound difference in our work to empower more orphanages around the world to rescue, love restore and equip the children they serve.
[button link="https://havenofhopeintl.org/adopt-an-orphanage/" newwindow="yes"] Adopt/Sponsor an Orphanage[/button]