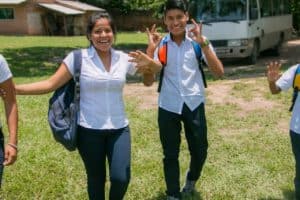 PHOTO: Maria and her brother, Rudy
Maria Fernanda is in her senior year of high school and is a role model of hard work and determination: making and selling chocolates, tutoring the younger girls at Haven of Hope, studying cosmetology as part of the HOH Transition Program and putting her newly-learned skills to work at a nearby salon to help cover the cost of her courses.
Maria is most often found smiling or laughing. However, she wasn't always so joyful and industrious. She lived in orphanages from a very early age. She and her siblings eventually landed in a loving environment at their previous orphanage, but then the beloved director died unexpectedly, and the home was forced to shut down. The children once again experienced the loss of the "family" they had grown to trust there.
Haven of Hope welcomed two groups of siblings who were left homeless after the orphanage closed, allowing them to preserve not only the emotional bonds of their biological relatives but also the experiential rapport of belonging to a shared community. Nevertheless, bereavement surfaced, and Maria faced a common struggle with rebelliousness and identity.
Thankfully, within the patient and protective family environment at Haven of Hope, Maria discovered God's perspective of herself and blossomed into the young woman of character she is today. Her life's journey exemplifies Psalm 68:5-6a: "A father to the fatherless, a defender of widows, is God in his holy dwelling. God sets the lonely in families."
Maria is cheerful but also strong when standing her ground on something she believes in. She works hard at her classes and especially loves styling hair and doing nail art. She says, "Thank you for supporting me and placing your confidence in me because at first I thought, 'I'm not up for this,' but I've learned to enjoy it."
Once she finishes high school, Maria dreams of going to college and studying architecture and/or environmental sciences. She would like to attend Bethesda University, a Christian college in Santa Cruz, Bolivia.
Maria is prepared to face a bright future, equipped with the confidence that God provides a family, whether biological or circumstantial, for guidance and comfort in the dark moments of life.
[button link="https://www.firstgiving.com/event/393019/Vocational-Program" newwindow="yes"] I want to provide HOPE![/button]