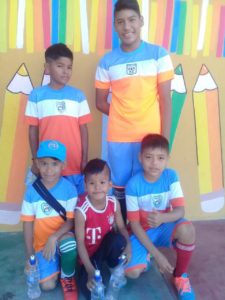 Rudy (back right)
A few years ago, Sue and Dr. Don Dian went on a Haven of Hope International mission trip to Bolivia with their Riverside Church group. During his trip, Dr. Don, a retired pediatrician, provided some additional health care support not only for the children at Haven of Hope but the neighborhood children as well.
While both Sue and Dr. Don have been on many mission trips over the years, this was their first trip with Haven of Hope International. What most impressed them? The quality of care the children were receiving overall and the loving environment that existed. They were impressed with the quality of the staff and their dedication to the meeting all the needs of the children. They asked many questions of the Psychologist, Aracely, and listened to the statistics that Nelly, the Social Worker, shared.
It was shortly after their visit that they decided to sponsor a young boy named Rudy. They got to know Rudy through the interactive child sponsorship program, and multiple visits to the orphanage and their bond continued to grow. Like all the children at Haven of Hope Orphanage, Rudy is encouraged to study hard and dream about his future, and Dr. Don and Sue have been a part of that process, encouraging him to study hard and pursue his dreams.
Knowing that most children never get adopted, Haven of Hope International's child sponsorship program creates an extended family feels, to support the family atmosphere at the orphanage. As Rudy continues to do his part with his chores and studies, Dr. Don and Sue committed to sponsoring him through his college years, to ensure that Rudy receives a solid Christian education and a college degree. Rudy is learning what family is supposed to look like, through regular folks who chose to be his extended family through our sponsorship program.
This past April, Rudy celebrated his 14th birthday. He loves soccer, is an exceptionally talented player and aspires to be a professional soccer player. As the oldest boy at the orphanage, Rudy has assumed the role of a thoughtful, soft-spoken leader to the younger boys. He is a good student with special interests in Math. His favorite chore is to help with the yard work at the orphanage. With the construction of the boy's dormitory, Rudy will be allowed to stay at the orphanage with his siblings during his teenage years.
Will you consider being an extended family to one of our kids and be an additional layer of support and encouragement?
[button link="https://havenofhopeintl.org/sponsor-now/" newwindow="yes"] FOR MORE INFORMATION ON OUR CHILD SPONSORSHIP PROGRAM[/button]