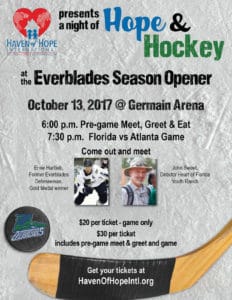 FOR IMMEDIATE RELEASE

Haven of Hope presents an Everblades "Season Opener for Hope & Hockey"
Event kicks off support drive for Heart of Florida Youth Ranch construction
ESTERO, Fla. (Sept. xx, 2017) – Alice Skaff, executive director for Haven of Hope International (HOHI), invites the public to attend a "Season Opener for Hope & Hockey," 6 p.m. on Friday, Oct. 13 at Germain Arena to enjoy a pre-game gathering, food, drinks, a meet-and-greet with former Everblades star Ernie Hartlieb and inspirational speaker John Sweet at the first game of the 2017-2018 season as the Florida Everblades face off against the Atlanta Gladiators.  
The event raises awareness of HOHI's current Extreme Hope Impact action to enable Heart of Florida Youth Ranch in Citra, Fla. to serve additional children who have suffered loss of parenting due to abandonment, abuse, neglect or death of a parent. Heart of Florida Executive Director John Sweet will mingle with guests at the pre-game gathering and share how love and hope is bringing restoration to the young lives at his facility near Ocala.
Situated among the horse and cattle ranches of Marion County, Heart of Florida nurtures the growth and development of 38 children ages 5 to 18, and is currently turning away new children due to capacity constraints. Haven of Hope has announced a capital campaign to raise the $250,000 needed to build a new cottage to house 10 to 12 children.
The Southwest Florida community may now partner with Haven of Hope International to raise funds for additional housing at Heart of Florida and meet Heart of Executive Director John Sweet at the Everblades season opener, which typically sells out. The cost is $30, including ticket, pre-game gathering at Germain Arena's Olde Florida Room, appetizers and soft drinks. Sponsorships are also available. The pre-game gathering starts at 6 p.m. and the game starts at 7:30 p.m. RSVP or inquire to Alice Skaff at Alice@havenofhopeintl.org.
Donations to assist Heart of Florida Youth Ranch are now being accepted at  havenofhopeintl.org/heart-of-florida. Heart of Florida is fully licensed by the Florida Department of Children and Families as a private 501(c)3 and accredited by the Council of Accreditation and can be found on the web at www.hofyr.org.
Skaff said, "Our in-depth assessment of Heart of Florida Youth reveals that it is a strong facility that is already well equipped with resources, programming, staff and training. It simply needs additional housing space to meet the continually growing need. We are excited to bring all the knowledge we learned on the ground in Bolivia to begin rescuing kids closer to home as well as around the world."
Haven of Hope's objective is to create an "Extreme Hope Transformation" for children in orphanages across the globe, using the flagship Haven of Hope orphanage in Santa Cruz, Bolivia as a model. In support of distressed orphanages and the children in need of their care, Haven of Hope espouses four distinct pillars of purpose: Rescue, Love, Restore, Equip.
About Haven of Hope International
The goal is to maximize the impact orphanages are making by providing an environment for children rescued from poverty, abuse and abandonment to feel loved and be restored, so they can dream and ultimately fulfill those dreams. This model can be found at the first Haven of Hope in Santa Cruz, Bolivia, established in January 2004. A well-equipped orphanage has the power to break the cycle of poverty and abuse. Haven of Hope International is committed to supporting the staff on the ground so they can provide the best possible experience for the children; a home that fosters true restoration and growth, physically, spiritually and emotionally. Learn more at havenofhopeintl.org.