There is so much that happens every day at our flagship orphanage, Refugio de Esperanza (Haven of Hope Bolivia). We love sharing our wins as well as our requests for prayer. Please lift up our children, staff, volunteers, and entire Family of Hope. Enjoy some of the highlights from the month of February.
This is a big deal!
The agreement between the Departmental Government of Santa Cruz and Haven of Hope Orphanage was approved for this year! What this means is simple — the orphanage is in good standing in the eyes of the government. This department holds our orphanage accountable by making sure the home has fulfilled their requirement. As a result, the home will to continue to receive "scholarships" or reimbursements to help with the costs of food, prescriptions, cleaning supplies, etc.
Pictured: Orphanage director, Gladys Jimenez de Aldana (left) with department official

School Supplies
Gathering school supplies for nearly four dozen children is no simple task. Thanks to Haven of Hope's amazing supporters and local Bolivian donors contributing to the need, the list of items pending purchase is decreasing steadily.
The staff on the ground tell us about 75% of school supplies (notebooks, colored pencils, folders, sheets of paper, etc.) have been purchased or donated to date.
About 50% of the text books have been purchased. The schools in Bolivia do not provide text books. It's up to parents to shop around for the books and often have to visit several book stores to fill the order.
The local Lion's Club donated several of notebooks for our children.
School uniform order still need to be fulfilled. Unfortunately, supply for uniforms is low in Santa Cruz at the moment. Surprisingly, this is not uncommon. The staff is hoping more uniforms are made available so that all the children have new uniforms this year. Each student is only given one uniform to last the entire school year. If you would like to sponsor a child's educational expenses, please let us know!
School Fair
February 26th is the anniversary of when the city of Santa Cruz de la Sierra was founded.  To commemorate this special day, the children's school held an educational fair with typical dress, cuisine, decorations and other visual, tangible odes to local tradition.
Pictured: Marco, Tio Placido, Jose, Aida and Ruth Sol in an exposition of typical food and drinks.
Pictured here is sweet Jose. He is dressed in typical "chiquitania" clothing.  The Chiquitania is the area of Bolivia that suffered extensive wildfires last year and is also known for the beautiful architecture at the Jesuit missions.
Aida and Ruth Sol are seen here with a typical corn drink called "somo".
Somo (sometimes spelled zomó) is surprisingly refreshing. This healthy Bolivian juice made from a specific type of small-kerneled white corn called "frangollo" and is light and slightly sweet. This Bolivian beverage is typical of Bolivia's Eastern tropical region and a very common part of the diet in this area.
Estafania poses near the posters her class prepared for the educational fair. The posters created specifically focused on the culture and special events that contributed to the creation on Santa Cruz.
Group Projects
Each adult on campus is assigned a group of girls or boys to mentor. This helps each child receive the most attention from a nurturing adult.A group of girls under Tia Esther's direction is learning about corn cultivation.  It's been a fun and enriching process for this group.
Despite, the ants endangering the tender shoots, they continue to grow.
Tio Placido's group worked on cleaning and organizing the sustainability area. Placido is the child psychologist on staff that has also received our Trauma-informed Care training. Here he's teaching the children that it's very important to ensure that water is not accumulating during mosquito season – especially with the numerous cases of Dengue Fever this year.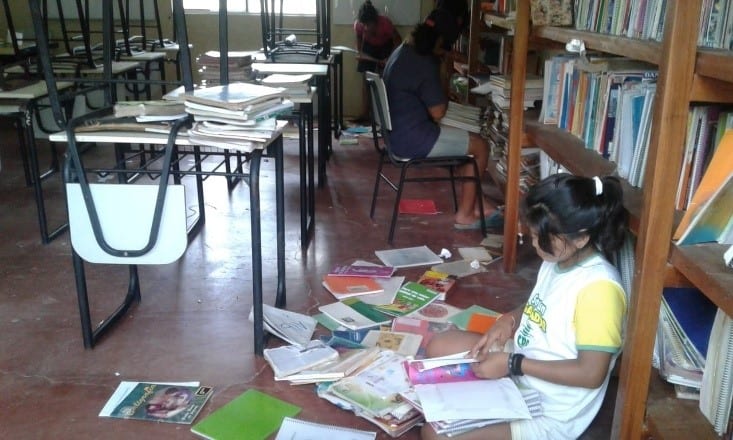 Another important activity is cleanliness at the home. The children and adolescents actively participate in keeping the different areas of our home tidy and clean.
Visits to the Orphanage
We love having visitors at Haven of Hope Bolivia! A group from Roca Church visited the orphanage during the second week in February. The group made precious memories with the kids and shared a tasty lemon desert.
This month we also had special guests at the home do discipleship training.
The leader of the Children's Education Network for the Church of God in Bolivia, Guisela Davalos and her husband, Pastor Armando Cortez, focused their time to teach the children's discipleship workshop this month. 
A sweet surprise
On February 19th, a Coca- Cola distributor in Santa Cruz, Embol S.A., donated juices and soy drinks to different children's homes. Refugio de Esperanza was a recipient! This was an effort done through the Departmental Government of Santa Cruz.  Our boys went to receive the donation and you could say they were pretty excited.
Check-ups
Adriana is one of many children who are able to access medical care thanks to the sponsorship program and agreements with the local government that help provide health care for children in homes.  She had a routine check-up this month.
If you would like to be a medical sponsor, let us know!
Workshops
The focus of February's workshops was reviewing Haven of Hope's rules for life on campus.  The children participated in several, hands-on workshops to start this new year off with a clear understanding of our expectations for their behavior – clearly defined rules are so important for our children.
These workshops are part of the Adaptation Program, which will typically be used to help new children adapt to HOHB Rules and Regulations.  This year the workshop was used to refresh their memories. 
The different areas covered in the workshops included rules for Dorms and Bathrooms, Kitchen and Dining area, Patio and Church, Family visits and Volunteers, as well as Studies, Administration Area, General Rules
Jose helped make this poster during one of the workshops. The poster shows the water schedule that was created to help lower the water bill. Work has also been done to locate and fix leaks but a little accountability will also help. This poster is just a friendly reminder of that schedule.
Sweet, Sweet, Fifteen!
The children and staff at Haven of Hope Bolivia celebrated Nicol's 15th birthday this month! The group had an elegant dinner. There was dancing and fun afterwards.
Read more about her birthday fun here.
Family Visits
Cristiano, Ruth Sol and Miguel went to visit their younger sister, who is in a different home for her age category.  It is very important for children to have this time with their siblings to continue to build a bond and strengthen the sense of family.
Hopefully, their younger sister will soon be transferred to Haven of Hope Bolivia to be reunited with her siblings. Trauma-informed care specialist, Alexis Basik, accompanied the youth on this visit.
Maria Isabel, Vanessa and Eddy went to have lunch with their brother, Daniel this month.  This picture has been the only time the staff says they have seen Vanessa WITHOUT the hat that Daniel left for her the day he was transferred to an all boys home.
The siblings were so happy to see him.  Juan Daniel joined them, as they are now both at the same orphanage. 
Sustainability Update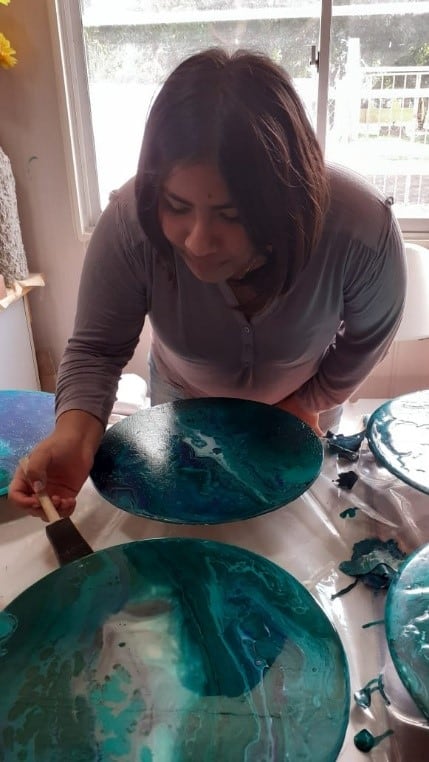 Training for the older children in the sustainability program continues this month. Read an in-depth update here.
Missonary Visit
A missionary couple from Greensburg, PA visited Haven of Hope for the 4th year in a row. 
Last year, they brought along new sheets for all of the children.  This year, they wanted to bless the staff, so they prepared totes to keep all of their supplies handy for homework time with the children. 
The missionaries also prayed for each staff members who were on campus during their visit.  It was an incredible blessing to have them spend time with the staff and children.
Tia Esther's Leap Year Birthday
Aunt Esther is one of few who only celebrate a "real" birthday every 4 years – and this was her year!  How old is she this year?  Who's keeping track? Hahaha…
Esther is the educator that has been serving Haven of Hope Bolivia the longest.  She has helped numerous children learn to read and at an early age recognize their numbers.