These monthly updates are written by Haven of Hope International's Director of Youth Development, Cathy Trentini De Guevara.
Update April 7 – 18
Our prayers go out for each of you, for the Lord to continue to guard and protect you during this unusual moment in history.
We are grateful for your prayers for Gladys and her family. Her mother passed away on April 8 at 8:30 am. COVID restrictions limited attendance to 10 people, but other family and friends were able to participate through a Facebook Live video. There is comfort in knowing that she is in the presence of her Savior as well as with her loved ones that went on before her, including her husband and a daughter.
On Tuesday, President Jeanine Añez announced that the total quarantine measures, which had been put into effect until April 15th, have now been extended until April 30th. As the month comes to an end, the situation in the country will be evaluated and further instructions for Bolivia's citizens will be provided.
The Bolivian government also disclosed its plans to relieve distress and stimulate the economy, including a one-time bonus payment for families and unemployed individuals who do not receive other government support in addition to low interest loans to small businesses to help keep them afloat and pay workers' salaries. May this situation help nations re-evaluate current policies and implement positive change in society.
Haven of Hope Campus
At Haven of Hope campus, the children continue with their daily routines as much as possible:
Morning prayers and Bible reading. They've just finished John and are starting Acts.
School work and chores in the morning and early afternoon.
Late afternoon playtime and games.
Evening church services on Wednesdays, Fridays and Saturdays.
Sunday School on Sunday mornings.
Here are some pictures of some recent activities during quarantine.
Magdalena's group deep cleans and organizes the library.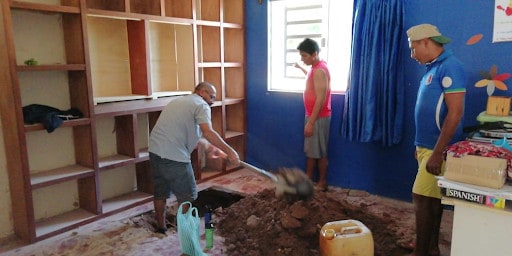 The guys work to eliminate the termite nest that has found its way to the Dream Center floor.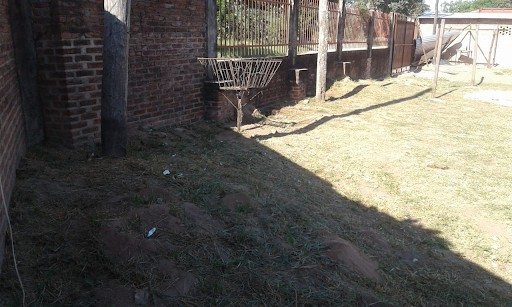 Work is done to keep the yard and garbage area clean.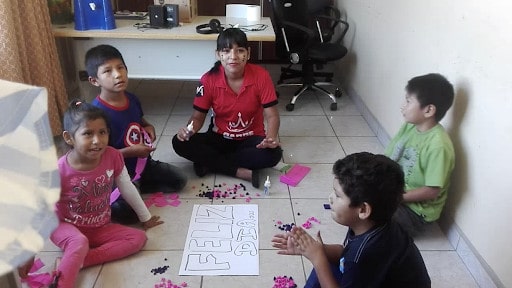 On campus Sunday School classes, led by the children and staff at Haven of Hope. Easter Sunday was also Children´s Day in Bolivia, so they celebrated with a special lunch. The educators have renounced their time off during quarantine, deciding to stay on campus during the entire quarantine to keep the children and fellow workers safe.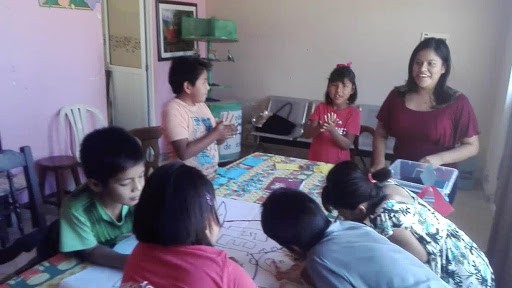 HOHB has had two more cases of Dengue Fever and a few colds, but thankfully the necessary medications were available and everyone is feeling better now.
We are grateful for your consistent prayers and support, which are vital to providing a safe atmosphere for our children. Both children and staff at Haven of Hope continue to pray for you daily, looking forward to the moment when travel restrictions are lifted and we can see you again!
---
Update March 21 – April 6th
Blessings to our Haven of Hope family during this week when we remember the passion of our Christ! Unlike any other moment in history, we will depend on virtual connections with our extended families and communities on Resurrection Sunday; some will celebrate at home with immediate family, others in solitude, and yet others on the front lines, giving continuity to the services that are essential to our society.
What day-to-day life is like in Bolivia
As of March 22nd, all off-campus staff members are working from home due to strict coronavirus quarantine regulations that prohibit leaving one's residence, with the following exceptions:
Making essential purchases: Only one person per household (between the ages of 18 and 65) can go on the assigned day, as per the last number of their ID document:
Ending in 1 or 2, Mondays
Ending in 3 or 4, Tuesdays
Ending in 5 o 6, Wednesdays
Ending in 7 or 8, Thursdays
Ending in 9 or 0, Fridays
On Saturdays and Sundays, all stores and businesses are closed. No one should be in the streets.
Medical emergencies: Proof of medical emergency must be provided.
Essential workers at essential places of business.
Business hours are 8:00 am – 12:00 pm.
Only pharmacies and health centers are open regular hours.
After 1:00 pm, no one is permitted in the streets.
These quarantine rules are in effect until April 15th, although extending these measures is likely due to the daily increase in number of COVID-19 cases in Bolivia. There is no confirmation of when students will return classes.
Thankfully, the "immediate" family at Haven of Hope Bolivia has been successfully adjusting to the current reality thanks to the dedicated on-campus staff that are working hard to keep a normal routine while implementing additional activities to keep everyone healthy, growing and learning.
Updates about the kids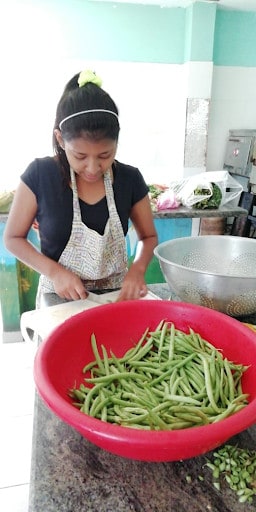 Because schools are closed, our adolescents and young adults have more time to practice other types of important life skills such as cooking and bread making.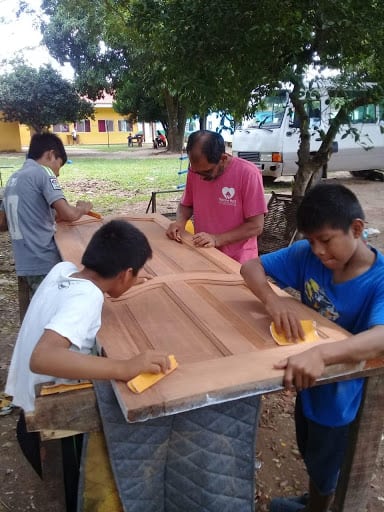 Our young men have also been helping "around the house" while learning maintenance skills.
Ways we're staying healthy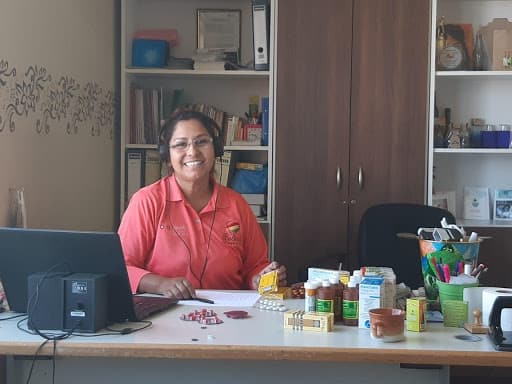 In addition to COVID-19, Bolivia has been dealing with outbreaks of Dengue Fever and the flu. At HOHB, 9 children and 2 adults have had Dengue. Thankfully, they have all recovered.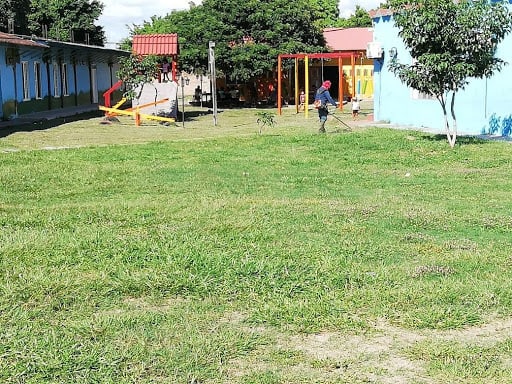 Preventive measures have included keeping the grass cut and fumigating the property frequently to diminish the mosquito population. Thanks to your generosity, extra funds were promptly available for treatments and for other medications.
Church is not canceled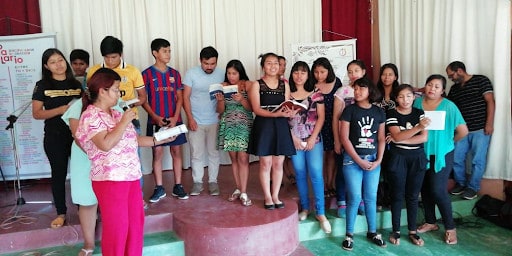 Another important aspect of life at Haven of Hope Bolivia that has not lost momentum is spiritual guidance and preparation. The staff members take turns teaching the children during services and the older brothers and sisters teach the younger ones at Sunday School.
School during Covid-19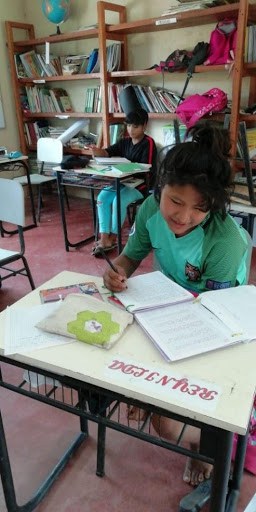 Although classes are not in session, teachers are sending homework assignments through WhatsApp. IN the mornings, the children work on their homework assignments with the help of their educators. After lunch and chores, any school work that wasn't completed in the morning is finished up by 5:00 pm.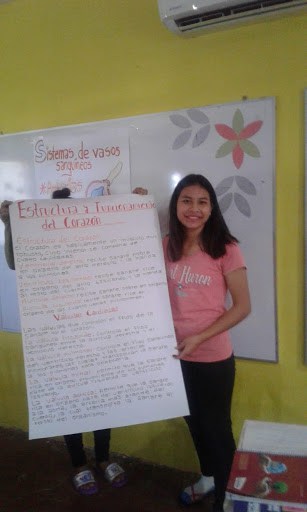 In the pictures, Reinilda and Vanessa work on homework assignments in the library, and Maria Isabel and Maria Fernanda, along with all of the students in their class, presented their Natural Science expositions in the Dream Center.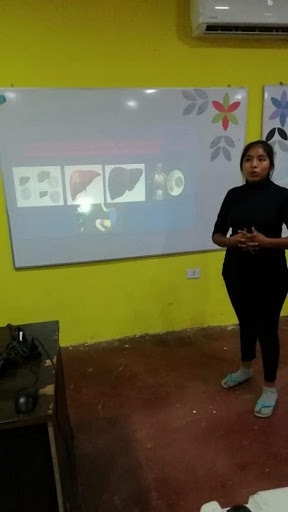 Please pray that the internet service company will come promptly to fix some internet issues HOHB has been having since Thursday so the children can stay on top of their assignments and for continued health, provision, strength and meaningful connections at Haven of Hope Bolivia's campus.
The bright side of quarantine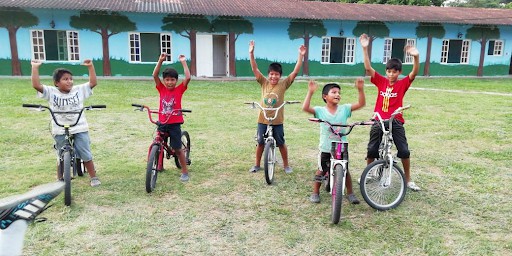 After school work is done, the games and playing begin! Quarantine has proven to be a perfect time to build meaningful connections between educators and their groups. Magdalena has even had a slumber party with her group!
Please pray for us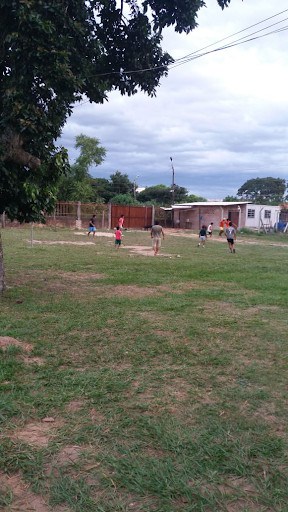 Please pray for the Trauma Informed Care tactics that have been taught to continue to take root, bud and blossom in the interactions between the staff members and the children, especially during this time when the off-campus "technical team" is unable to support them in person on a day-to-day basis.
God is faithful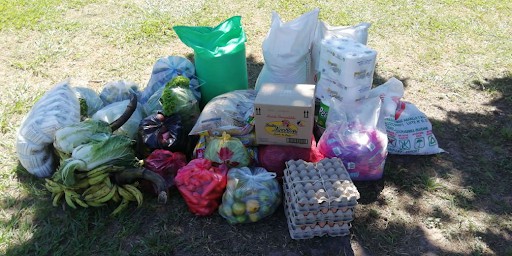 God's faithfulness materialized: Food donations have been received.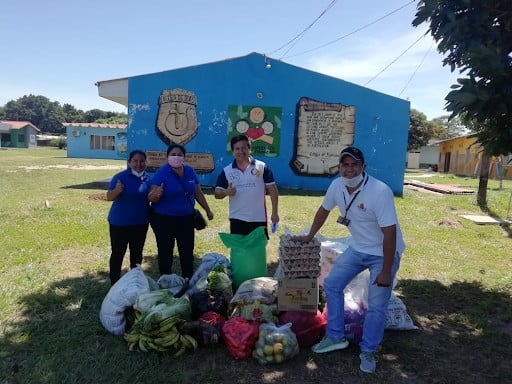 We received donations both from a local church and a group of workers from a local bank., Banco del Sol. He provides for His children!
The fruits of your generosity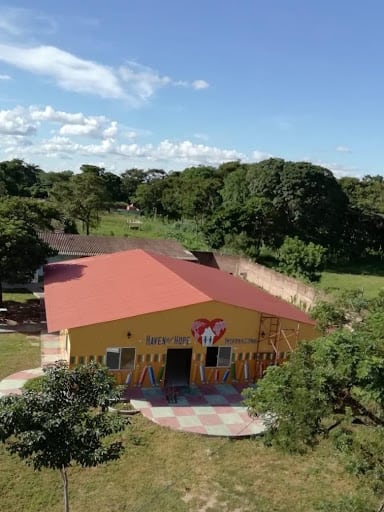 Thanks to the generosity of our sponsors, the entire roof on the kitchen/dining area has been replaced, just before some heavy rains and before the nation went into quarantine.
We are grateful to each and every one of you for the time, energy and resources you invest in making Haven of Hope a safe environment where the children, adolescents and young people that God has placed in our hands can receive restoration and preparation. May He continue to bless and prosper you as you care for His children.
Encouragement during this time of quarantine
The Psychology Department of Haven of Hope sent the following article to encourage staff at the beginning of the quarantine.
In Psychology, resilience is defined as the capacity to come out of adverse or traumatic conditions, which activate an efficient coping response in crisis, strengthened… 1. The determining variable for individual resilience is social support. The psychological resistance of an individual is related to positive self-esteem and the assertiveness that allows one to ask for help when needed, and the capacity of self-criticism regarding the preventative measures that we take as we face this pandemic. 2. Coronavirus constitutes a threat to our lives, but also to our psychological, social and economic stability. For that reason, confinement to our homes is fundamental during the quarantine. 3. Resilience is not only an individual capacity but also implies groups, family, community and institutions as part of the solution and putting resources in place to face these critical situations. A society is resilient when it is united, when everyone cooperates for the common good to protect ourselves from this pandemic. We must take all of the preventative measures possible: Confinement in homes and, above all, commending ourselves to our beloved Heavenly Father. Follow the measures and stay home. Author: Psychology Department of Haven of Hope.

Individual and Social Resilience As We Face Coronavirus COVID-19