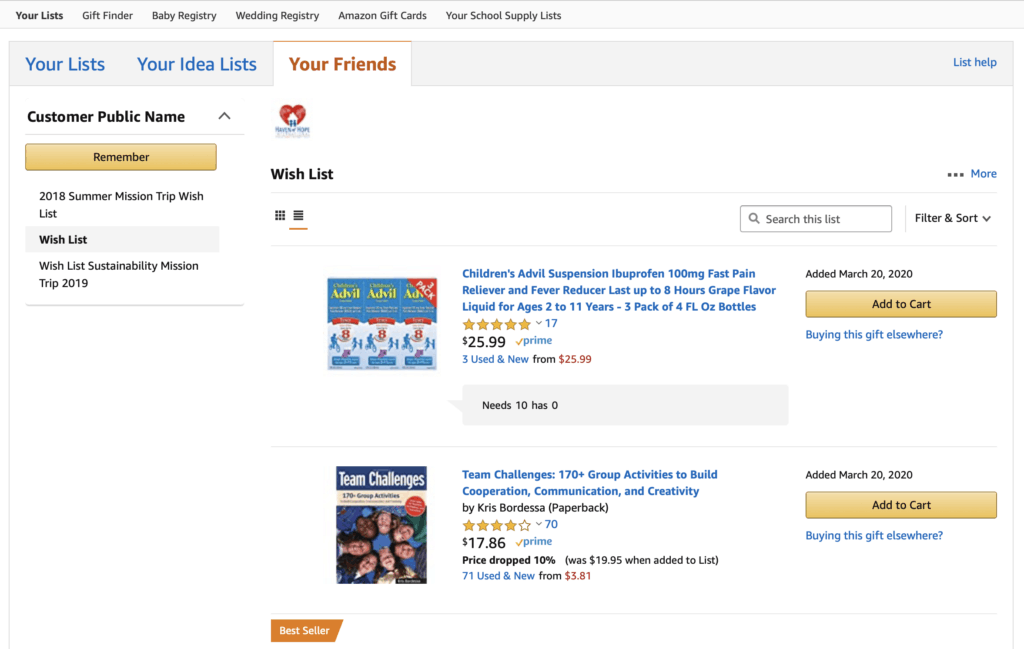 We just launched our Amazon Wishlist! This will be a great way to help meet the needs of the kids we serve throughout the year. The goal is to update the list as frequently as possible.
---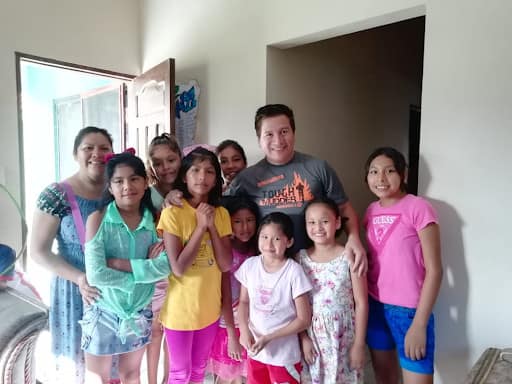 At Haven of Hope International, our goal is to change the destiny of orphans around the world. We strive to strengthen and empower orphanages. We do this by helping them implement proven programs and strategies that rescue, love, restore, and equip the abused and abandoned children they serve.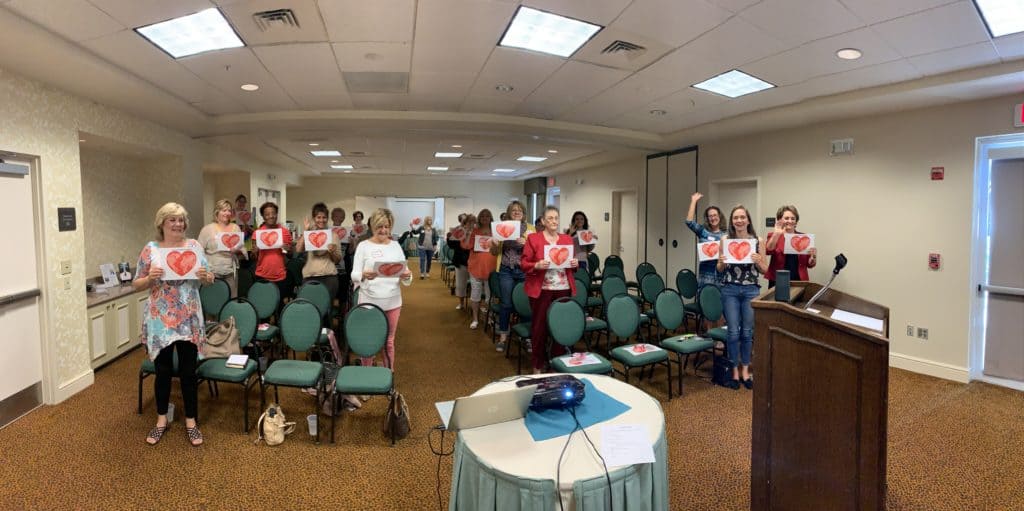 We are able to complete our mission daily thanks to the love and support from our Family of Hope. Our Family of Hope consists of churches, businesses, entrepreneurs, teachers, nurses, homemakers, retirees, college students, high school students, attorneys, doctors, and the list goes on. It may be overwhelming to think about the orphan crisis because the reality is its 153 million children strong. However, we know that just one person is capable of making a difference and inspire others to do the same.
---
You help children thrive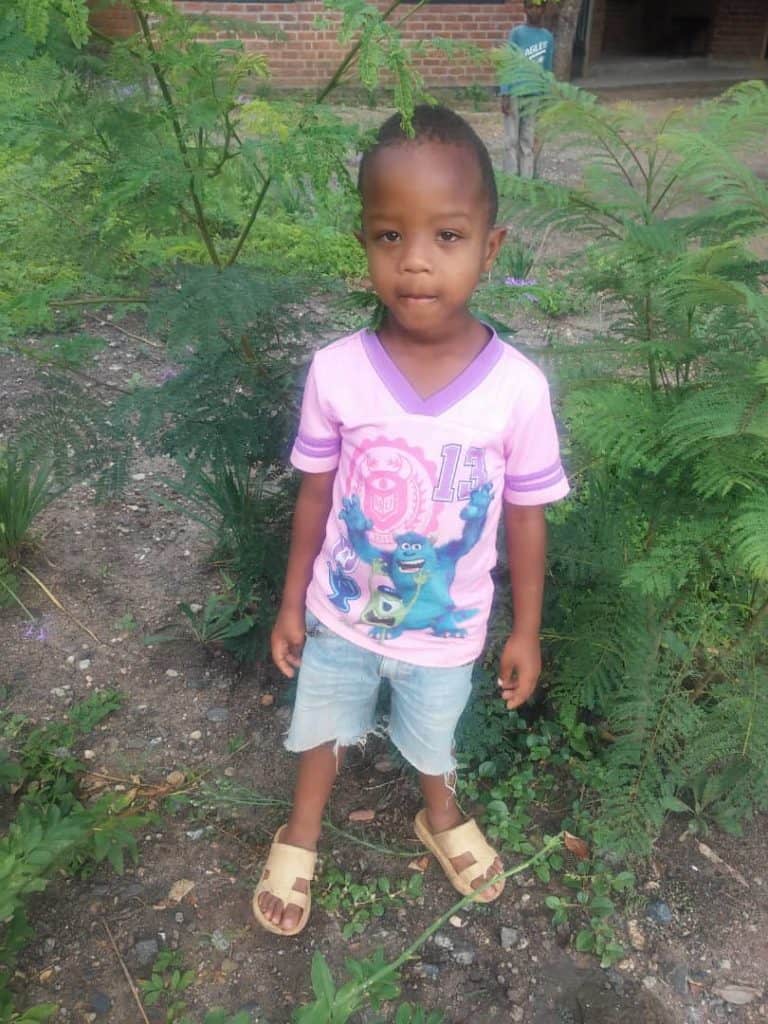 As we get donations in, we are able to help children thrive and work towards reaching their dreams in a safe, loving, and christ centered environment. Funding is critical. Their lives and futures depend on it.
We welcome donations of any amount to seed into their futures.
This wishlist is just a different way for our friends and families to help us provide some things that are necessary for children to thrive.
---
How to shop our Amazon Wishlist?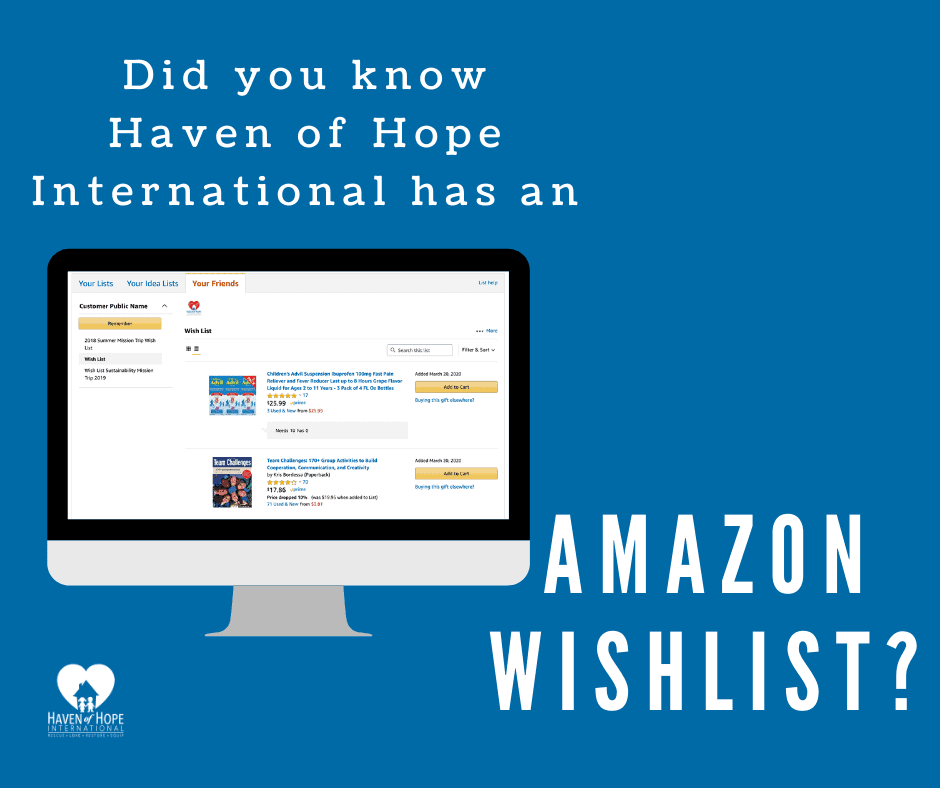 Click here or copy and paste this link: https://www.amazon.com/hz/wishlist/ls/EJEPATKKIVA4?ref_=wl_share
Select one or more items and add to your cart
Share the link in step one with your friends + family
Your Online Shopping Can Help Orphans Around the World With AmazonSmile
Did you know that, every time you make a purchase through Amazon, Amazon will make a donation to Haven of Hope without any additional cost to you? It's easy! Go to smile.amazon.com and choose Haven of Hope International when prompted to select a charitable organization. Then, any time you shop on Amazon, just return to smile.amazon.com. Amazon will remember your account and your charity of choice. So, every time you make a purchase, our kids will benefit!
Watch the video or go to smile.amazon.com/about to learn more about the AmazonSmile program.
Please bookmark the link below so that all of your eligible purchases will benefit Haven of Hope International.
Read some of our recent posts